What is the WISE Program?
WISE is a graduate school program established by the Ministry of Education, Culture, Sports, Science and Technology (MEXT) in 2018. It is a five-year integrated doctoral program, which aims to foster "knowledge professionals" in various fields. MEXT accepted applications from universities between 2018 and 2020, and 30 programs across Japan were selected. Nagoya University offers four WISE programs.
Human Resources for Transdisciplinary Mobility Innovation (TMI)
The technology revolution, which is also called the mobility innovation, is one of the most significant lifestyle revolutions since the industrial revolution. Although the technology revolution minimizes time and spatial mobility costs, realizing a rich lifestyle via technology has become more difficult as the complexity of social issues and diversity of values increase. To lead a lifestyle revolution, a team of experts in multidisciplinary fields such as humanities, social science, engineering, informatics, and environmental studies is necessary. By respecting and understanding the perspectives and expertise of each field, the team creates value in diverse areas and builds technologies and methodologies that can translate into society. Because transdisciplinary human resources capable of working in multidisciplinary teams need to be fostered, this program supports an outstanding curriculum to nurture transdisciplinary collaborations among students by a team of experts across six graduate schools and seven centers. Additionally, it provides opportunities for industry-academia co-creation research in collaboration with private corporations. Through this remarkable setup, the program nurtures human resources for transdisciplinary mobility innovation, who contribute to initiatives that elevate mobility into social values with boundless foresight.
Outstanding three-layer curriculum
The transdisciplinary curriculum has three layers to acquire the necessary knowledge and practicum experience for TMI: TMI Knowledge Base, TMI Practice Base, and TMI Lifestyle Revolution Doctoral Research. In the TMI Knowledge Base, students acquire the necessary knowledge and practicum experience for TMI by selecting what to learn according to their background. It is structured into 1) Coursework, 2) Transdisciplinary Faculty Discussion Lectures, and 3) Mobility Innovation Common Lectures. In Coursework, students acquire fundamental knowledge for transdisciplinary collaborations through vertical subjects to study specialization and horizontal subjects to link different fields. In Transdisciplinary Faculty Discussion Lectures, faculty members in various fields provide opportunities to learn different perspectives. In Mobility Innovation Common Lectures, students learn basic knowledge related to mobility.
The TMI Practice Base consists of 1) Boot Camps, 2) Onsite Research Training (ORT), 3) Testbed Design and Development (TDD), and 4) Venture Catapult. Boot Camps build transdisciplinary collaborations in a team setting at overnight camps. In ORTs, students conduct onsite survey research at different locations such as at municipal governments. TDDs provide students opportunities to design and develop a testbed as a basis for demonstration experiments in and outside the University in collaboration with corporate mentors, while Venture Catapult allows students to work together to plan and establish a venture company.
In TMI Lifestyle Doctoral Research, students conduct doctoral dissertation research with an emphasis on value creation and methodology in the lifestyle revolution. Research is based on transdisciplinary collaborations such as industry-academia co-creation, leveraging the students' specialization. In particular, the program fosters abilities to become Knowledge Professionals through collaborative research with private corporations in Industry-Academia Co-Creation Education promoted by the University.
Gaining knowledge and practicum experiences in different fields begins with mobility innovation.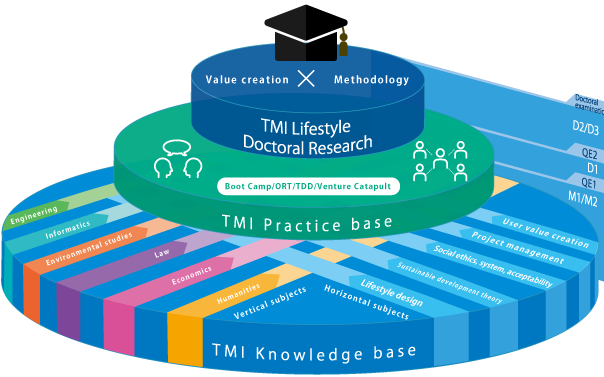 Five acquired abilities by program students
The curriculum cultivates five abilities necessary for transdisciplinary collaborations. These include the following abilities: 1) to conduct research in their own specialization, 2) to discover issues and translate values into social systems based on broad overview knowledge, 3) to co-create value by communicating with experts in other fields, 4) to exhibit resilience through ambitious social implementation, and 5) to view issues from an international outlook. Human resources who complete the program are expected to prosper in diverse fields as professionals who support the lifestyle revolution such as researchers, engineers, venture capitalists, entrepreneurs, and government officials.
Five abilities to form transdisciplinary collaborations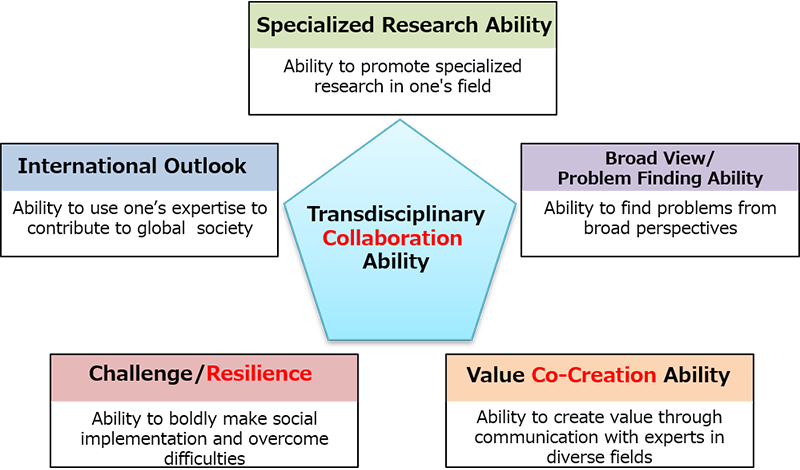 Program Application
Accepting applications for the first year of the program. (The program starts in December 2020.)

Closing application for the first year of the program. (Closed on November 11, 2020.)

Accepting applications for the second year of the program. (The program starts in April 2021.)

Closing application for the second year of the program. (Closed on March 4, 2021.)